UK Dementia Book Club
Reading books for people living with dementia
Book Clubs are part of many communities where all types of people gather to discuss books. A book club creates space to discuss what is discovered in a chosen book, enjoy conversation and the company of others. At each book club's core, is the belief that members achieve their reading goals by working together. Stimulating activities for alzheimer's and dementia can be hard to find, but for people living with dementia a book club is an excellent cognitive stimulation activity.
Reading as a meaningful activity for a person with dementia, may be challenging for several reasons, and may make some people assume reading isn't one of the many stimulating activities for alzheimer's. Writing books that enable people living with dementia to continue to enjoy reading and sharing a book is based on the research of Dr Alan B. Stevens and Dr Cameron Camp, making it a one of the many varied and stimulating activities there are for alzheimer's patients. In order to support people living with dementia to enjoy participating in a book club, books have been especially written, following the international evidence base.
The style, content and layout of the books has been inspired by the books written in the series Carry on Reading in Dementia by Gail Elliot Gerontologist and Dementia Specialist, DementiaAbility, Canada. An important feature of the book is the size, type font and layout of the material, which has been tested in individual and group settings, so it makes as just one of the many activities for alzheimer's and dementia patients.
Assessing a person ability to read is important along with inviting people to come to the club.
Book clubs can be facilitated in any care or hospital setting and the books can be used by family members, who can enjoy the pleasure of reading together.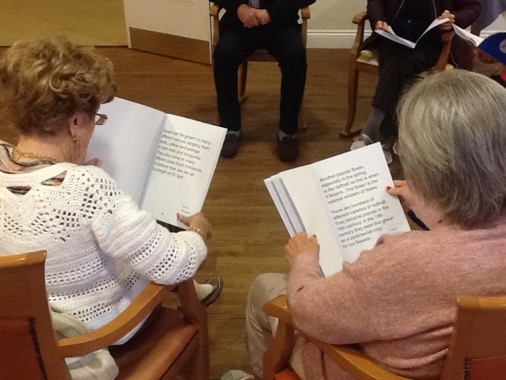 How to carry out a Reading Screen.
Watch this short video to learn how to do a reading screen with person who is living with dementia.
The reading screen will help identify the size of font the person may need for signs as well as for reading books.
Remember:
Ask them to help you.
Ask them to read and do what it says- to learn if they can read and understand the instruction.
Don't talk while they are doing it… it may distract them.
They cannot fail – how  ever far they get and whether it is wright or wrong, .. Thank them for their help.
You may want to repeat the screen at different times to establish if this helps them.
Only repeat it 2 times more.
A copy of the reading screen in provided with every book club set of 7 books purchased
Reference to the Reading Screen:
Benigas J, Brush J, Elliot G (2016) Spaced retrieval Step by Step.  An evidence-based memory intervention Health Professions Press, Maryland USA.
Colouring Books for people living with dementia
Have you ever wondered why some people with dementia are not interested in colouring? When the pages connect to the interests and abilities of the individual, the outcomes are often surprising and rewarding.
Created by Gail Elliot, DementiAbility Canada, these books have been produced using high quality paper to enhance the tactile experience and to ensure the finished picture brings joy and a sense of pride and success for people at all stages of dementia.
The books cost £9 + p&p each, are delivered by courier, and the shipping is calculated based on the total weight of the order.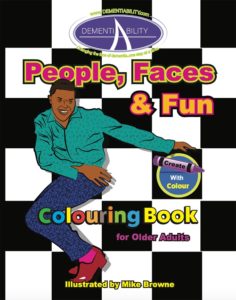 People, Faces and Fun provides colouring pages that will also stimulate memories and showcase the creative abilities of those living with dementia and other forms of cognitive loss.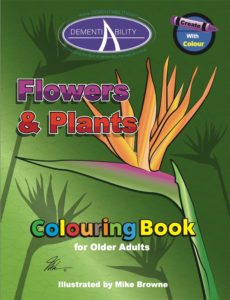 The drawings in the flowers colouring book have a black background, thus eliminating the concerns one might have about "going over the lines". /span>